New DJI Phantom 2 Vision + Plus w/ FPV HD Cam + Extra Battery DJI has released its new ready to fly quadcopter, the Phantom 2 Vision+
The Phantom 2 Vision+ ushers in a new era of aerial cinematography with its brand new and incredibly stable 3-axis gimbal, combined with the sharp, powerful DJI-designed camera, making professional imaging tools easily accessible to everyone.
The Phantom 2 Vision+ is simple to set up and super easy to fly, making it the first aerial filmmaking system for everyone. Now you can shoot fully stabilized video from the sky, right out of the box. A built-in high precision 3-axis camera stabilization system brings a whole new level of smoothness to your aerials and gives you total creative freedom in the sky.The integrated GPS auto-pilot system offers position holding, altitude lock and stable hovering, giving you constant stable flight so you can focus on getting the shots.
Main features:
Ready to fly
3-axis camera stabilization
Precision flight and stable hovering
Radar positioning & return home
Onscreen real-time flight parameters
High performance camera
Camera tilt control
Film straight down
Supports Adobe DNG RAW
Adobe lens profile support
Camera parameter settings
Album synchronization
Specs:
Aircraft
Supported Battery : DJI 5200mAh LiPo Battery
Weight (Battery & Propellers Included) : 1242g
Hover Accuracy (Ready To Fly) : Vertical: 0.8m; Horizontal: 2.5m
Max Yaw Angular Velocity : 200°/S
Max Tiltable Angle : 35°
Max Ascent / Descent Speed : Ascent: 6m/S; Descent: 3m/S
Max Flight Speed : 15m/S (Not Recommended)
Diagonal Motor-Motor Distance : 350mm
Gimbal
Working Current : Static : 750mA; Dynamic : 900mA
Control Accuracy : ±0.03°
Controllable Range : Pitch : -90°-0°
Maximum Angular Speed : Pitch : 90°/S
Carmera
Operating Environment Temperature : 0c-40c
Sensor size : 1/2.3″
Effective Pixels : 14 Megapixels
Resolution : 4384×3288
HD Recording : 1080p30
Recording FOV : 110° / 85°
Remote Controller
Operating Frequency : 5.728 GHz-5.85 GHz
Communication Distance (open area) : CE Compliance: 400m; FCC Compliance: 800m
Receiver Sensitivity (1%PER) : -93dBm
Transmitter Power : CE Compliance: 25mW; FCC Compliance: 100mW
Working Voltage : 80 mA6V
Battery : 4 AA Batteries
Range Extender
Operating Frequency : 2412-2462MHz
Communication Distance (open area) : 500-700m
Transmitter Power : 20dBm
Power Consumption : 2W

Camera tilt control
Tilt the camera as you fly, so you can create the graceful moving shot you see in your mind.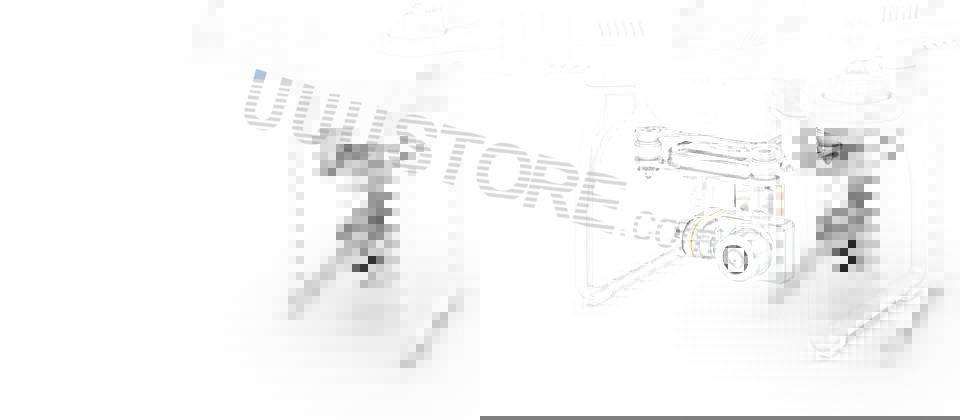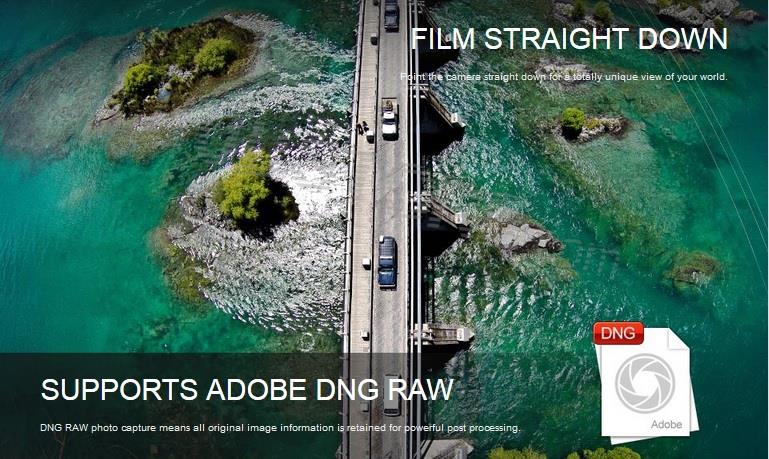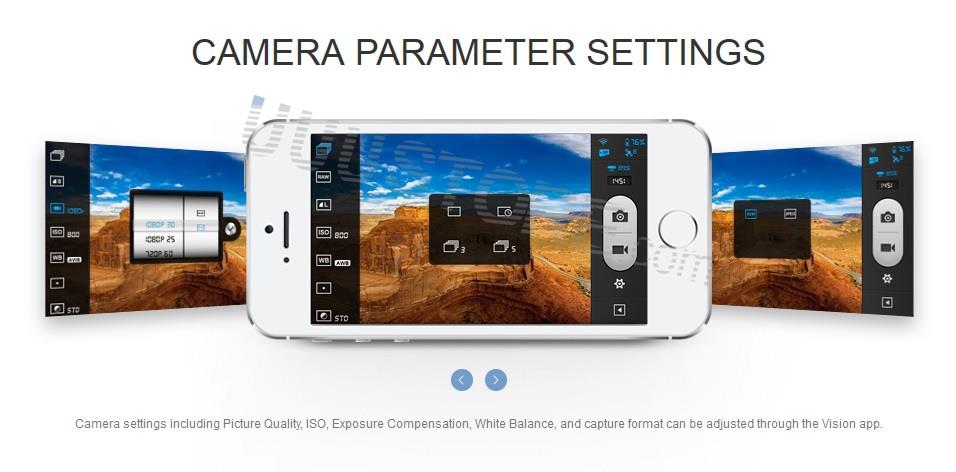 No fly zones feature
In order to increase flight safety and prevent accidental flights in restricted areas, the new firmware for the Phantom 2 series includes a No Fly Zone feature.
These zones have been divided into two catogories: A and B. For a full explanation of the difference between the categories and view a full list of places included,

Aircraft

Supported Battery

DJI 5200mAh LiPo Battery

Weight (Battery & Propellers included)

1242g

Hover Accuracy (Ready to Fly)

Vertical: 0.8m; Horizontal: 2.5m

Max Yaw Angular Velocity

200°/s

Max Tiltable Angle

35°

Max Ascent / Descent Speed

Ascent: 6m/s; Descent: 3m/s

Max Flight Speed

15m/s (Not Recommended)

Diagonal motor-motor distance

350mm

Gimbal

Working Current

Static : 750mA; Dynamic : 900mA

Control Accuracy

±0.03°

Controllable Range

Pitch : -90°-0°

Maximum Angular Speed

Pitch : 90°/s

Camera

Operating Environment Temperature

0°C-40°C

Sensor size

1/2.3″

Effective Pixels

14 Megapixels

Resolution

4384×3288

HD Recording

1080p30

Recording FOV

110° / 85°

Remote Controller

Operating Frequency

5.728 GHz-5.85 GHz

Communication Distance (open area)

CE Compliance: 400m; FCC Compliance: 800m

Receiver Sensitivity (1%PER)

-93dBm

Transmitter Power

CE Compliance: 25mW; FCC Compliance: 100mW

Working Voltage

80 mA6V

Battery

4 AA Batteries

Range Extender

Operating Frequency

2412-2462MHz

Communication Distance (open area)

500-700m

Transmitter Power

20dBm

Power Consumption

2W
What's In The Box:
1 x DJI Phantom 2 Vision+ Quadcopter w/ Built in GPS and Gyro
1 x 5.8 GHz Remote Control Transmitter
1 x 2.4 GHz High Definition 14MP 1080P Wi-Fi Camera w/ 3-Axis Stabilization (records photos or videos to SD card and transmits to any Apple or Android device (phone not included)
1 x Wi-Fi Signal Repeater/Extender (allows for video to transmit up to 700 meters)
2 x 11.1V 5200mAH High Performance Lipo Battery (provides 25 minutes of flying time, built-in on/off button and battery status L.E.D. indicator)
1 x LiPo Battery Charger/Balancer
8 x Self Tightening Propellers
Limited 1-Year Warranty on Transmitter, MC, ESC, and Camera Only